Le concours de la facture est de retour
1/28/2022 9:53:02 AM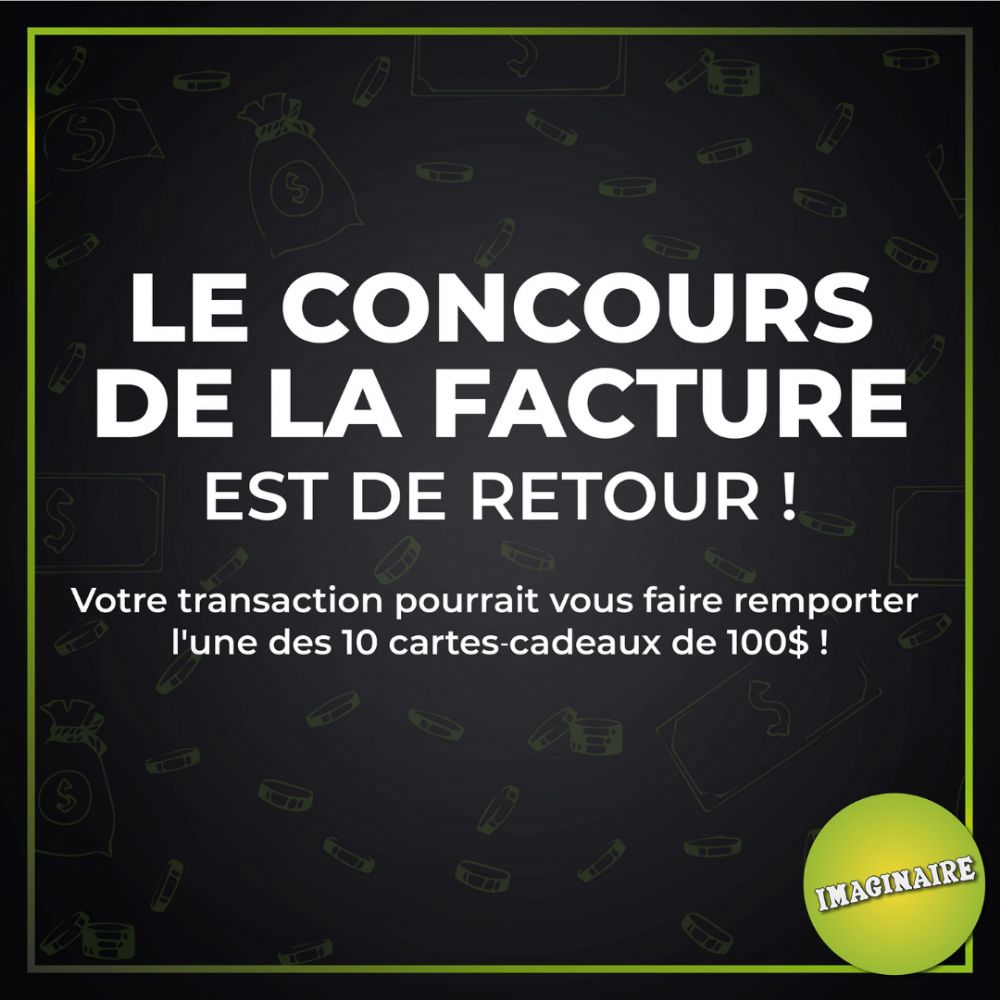 Voici les numéros gagnants pour le mois d'avril. Les gagnants ont jusqu'au 31 mai 2022 pour réclamer leur prix.
Here are April winning numbers. Winners have until May 31st 2022 to claim their prize.
[1314] [3325] [2432] [7481] [9069] [3978] [7729] [6530] [6823] [1383]
*The English version will follow.
Le concours de la facture revient en force pour les mois de février, mars et avril!
Il est temps de recommencer à garder précieusement vos factures, car vous pourriez avoir la chance de gagner l'un des dix certificats-cadeaux de 100 $ à dépenser dans l'une de nos cinq boutiques ou sur notre site internet qui seront tirés chaque mois!
Les numéros gagnants seront tirés le premier jour du mois suivant. Par exemple, les numéros gagnants pour le mois de février seront dévoilés le 1er mars. Les gagnants devront nous contacter pour réclamer leur prix. Nous ne vous contacterons pas pour vous en aviser, que ce soit par courriel ou par l'entremise de nos réseaux sociaux. Soyez particulièrement vigilants en ce qui concerne les comptes frauduleux sur Facebook et Instagram. Nous ne vous demanderons jamais d'informations confidentielles comme votre numéro de carte de crédit ou d'assurance sociale.
Fonctionnement du concours
Sur chacune de vos factures, vous trouverez un numéro de facture. Attention, IL NE S'AGIT PAS de votre numéro de commande.
Si vous avez fait votre achat en magasin, ce dernier se trouve dans le haut de votre facture, à côté de « Facture #: XXXXXXXXX », et dans le bas, sous le code-barres.
Pour les commandes faites en ligne, ce dernier se trouve dans votre courriel de confirmation d'envoi si vous avez choisi un envoi postal ou, si vous avez choisi la cueillette en magasin, il se trouve dans l'encadré, en haut, à droite de votre facture. (Référez-vous au visuel ci-dessous au besoin.)
Vous devez vérifier si les quatre derniers numéros de votre facture correspondent à ceux indiqués plus haut. Si oui, vous avez gagné ! Vous avez jusqu'à la fin du prochain mois pour vérifier et réclamer votre prix. Par exemple, pour le mois de février, vous avez jusqu'au 31 mars pour réclamer votre prix.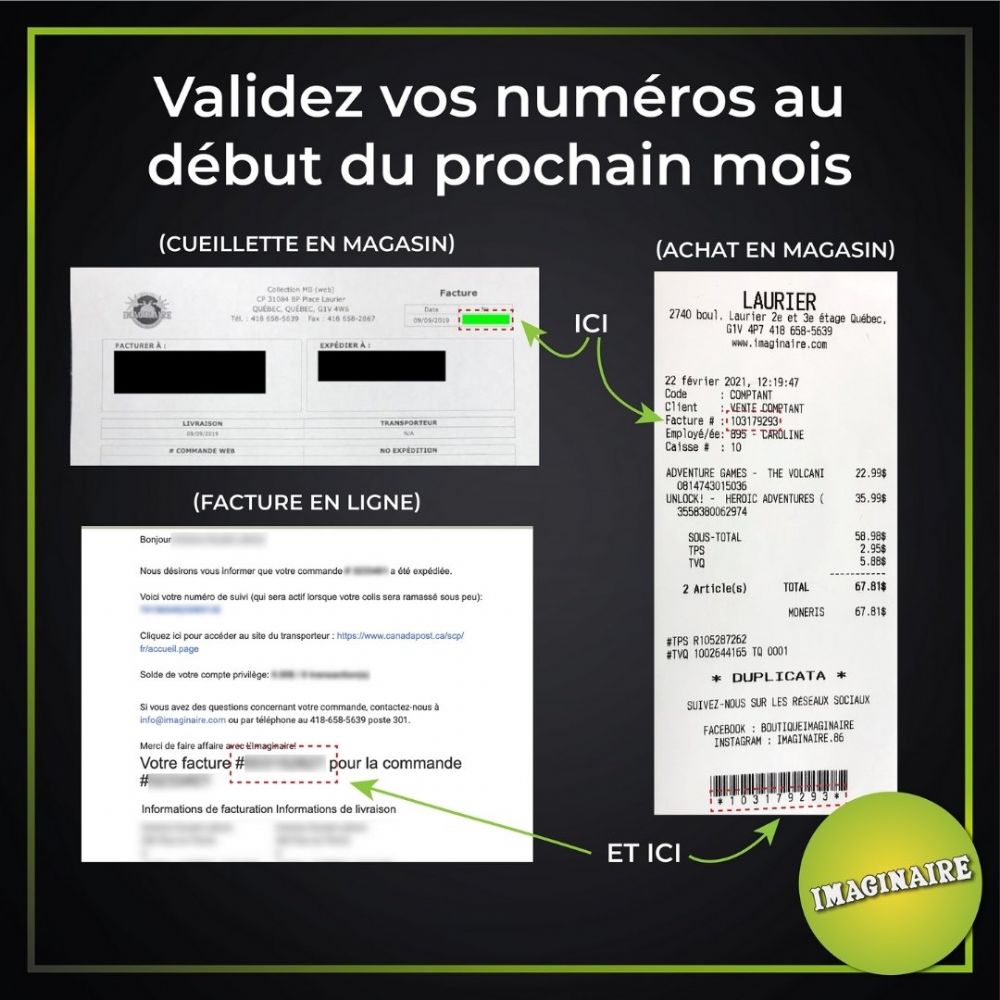 The receipt contest is back for February, March and April!
It is now time to keep all your receipts, because, for each of those months, you could win one of our ten 100 $ gift certificates to spend in any of our five stores or on our website.
Winning numbers will be drawn and announced of the first day of the following month. For example, winning numbers for February purchases will be announced on March 1st. Customers must contact us to redeem their prize. We will not contact you in any way so remember to be careful with fraudulent accounts on Facebook and Instagram. We will never ask for confidential informations such as your credit card or social numbers.
Contest details
On every receipt, you will find a receipt number. Be careful, your receipt number IS NOT your order number.
If you made your purchase in-store, your receipt number is on the top of your receipt, beside the « Receipt # : XXXXXXXXX », and at the bottom, under the barcode.
If you made your order online, you can find your receipt number in your shipping confirmation email or, if you choose to pick-up your order in-store, your can find your receipt number on the top right corner.
If the last four numbers of your receipt number match the ones indicated on this page, you won ! You have until the end of the month to verify and collect your prize. For example, for February, you have until March 31st to claim your prize.
Emilie