What to expect of UD Series 1 2021-22?
3/2/2022 10:25:58 AM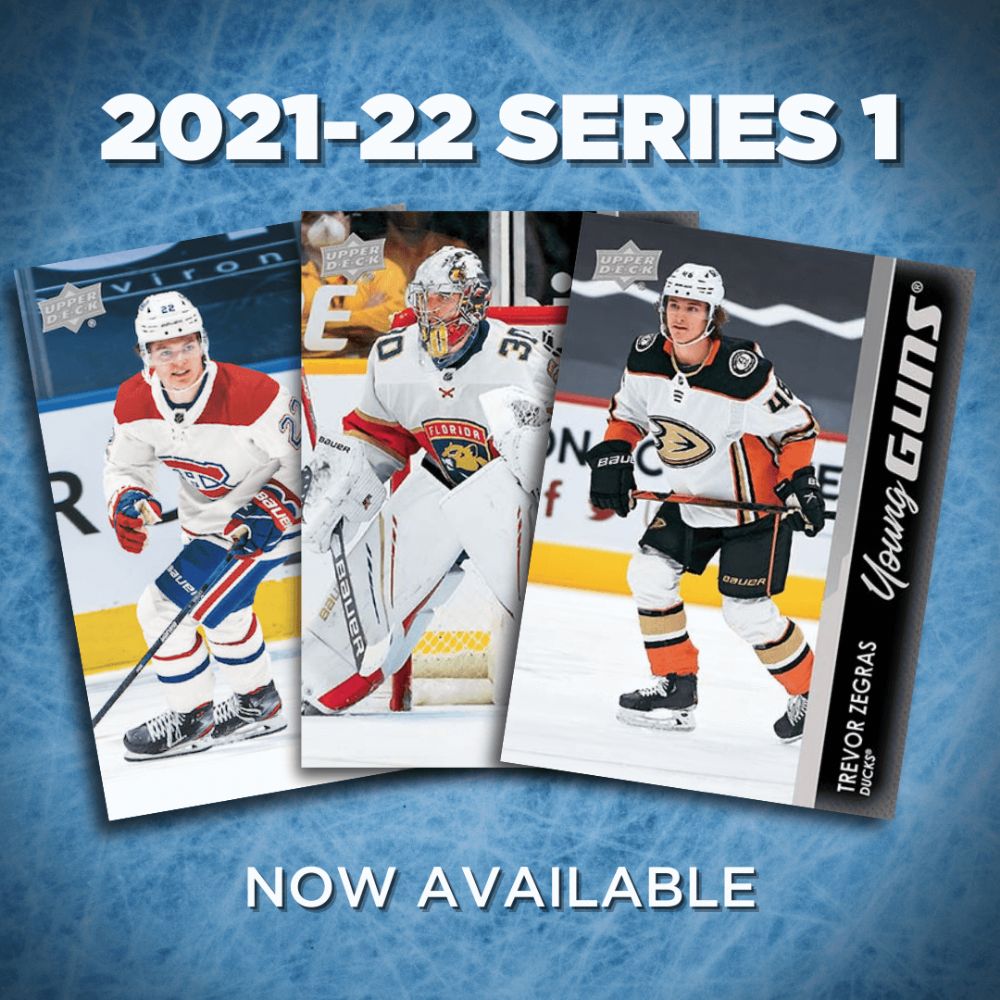 After a long wait, Upper Deck's
Series 1 2021-22
is finally here! Even though its release date has been really uncertain, the series comes back with some of its most appreciated inserts, but also with brand new inserts to look forward to.
Here is everything you need to know about this series, which still includes a 250 cards base set as well as 49 new Young Guns.
Which popular inserts will be back in this series?
Loyal to its tradition, the series includes 49 new Young Guns. Even though those cards are produced in limited quantities, a hobby box still contains an average of 6 Young Guns.
Lots of parallel cards are also back, such as French variants (1 per box, 1:30), Clear Cuts (1:96, still hobby exclusive) and numbered Exclusives (/100) and High Gloss (/10).
Many inserts are also coming back, notably UD Canvas (some of which are autographed and numbered according to the player's jersey number!), but also UD Portraits and multiple color Dazzlers.
The series 1 still includes many Game Jersey cards containing game-worn memorabilia.
It also includes 18 new Day With the Cup Flashbacks (1:2880 hobby & 1:7200 retail), among which you can find cards figuring Jean Béliveau, Wayne Gretzky, Bobby Orr and Martin Brodeur.
Which Young Guns will be included in this series?
Many anticipated Young Guns are included in this series, especially the rookie cards of Trevor Zegras, Cole Caufield and Spencer Knight. We will sadly need to wait a little bit longer to get our hand on Seider, Raymond and Byfield Young Guns.
Which new inserts will be introduced in this series?
Clear Cut Picks (1 :152) : this acetate cards series is exclusively dedicated to players drafted in the first NHL draft round. It includes players cards such as Cole Caufield, Andrei Svechnikov, Trevor Zegras and Auston Matthews.
Electromagnetic (1 :14) : this new series is dedicated to nowadays best players in the NHL. It includes players cards such as Nick Suzuki, Sebastian Aho, Kirill Kaprizov and Leon Draisaitl. You can also collect relatively rare Gold parallels of this brand new series (1:160).
Hundo P (1 :12) : this series, also new, features players that are know for their hustle, such as Adam Fox, Brady Tkachuk, Brayden Point and Anze Kopitar. You can also collect relatively rare Gold parallels of this brand new series (1:192).
Daylight Nightlight (1 :864) : UD hasn't been especially forthcoming regarding these new inserts, doing little more than saying they will be extremely rare. Everything leads us to believe that these rare inserts might be worth to keep a close eye on.
Game Jersey cards are also back this year, now also including 25th Anniversary memorabilia numbered out of 15!
UD Portraits will also be available in a brand-new Black & White variant numbered out of 250 for regular UD Portraits and out of 25 for UD Portraits SP.
The highly appreciated classic series Honor Roll (1:12) is also coming back and honors NHL Superstars such as Marc-André Fleury, Alex Ovechkin, Cale Makar and Andrei Vasilevski. It also includes Rainbow parallel variant (numbered out of 250) and Gold Rainbow (numbered out of 25).
Many series will also be available in a brand-new Printing Plate variant, notably UD Canvas and Portraits, Honor Roll and Rookie Retrospective.
What can we expect to find in an average hobby box?
6 Young Guns
1 premium card among these options : 1 Clear Cut OR 1 memorabilia card OR another premium card (only 1 card among these options)
1 Dazzlers
2 Honor Roll
4 UD Canvas
2 UD Portraits
1 French parallel
Do not wait any longer to discover 2021-22 Series 1, now available in hobby. Other formats will be available soon.
Emilie