What to expect from UD hockey Series 2 2022-23?
1/18/2023 10:40:19 AM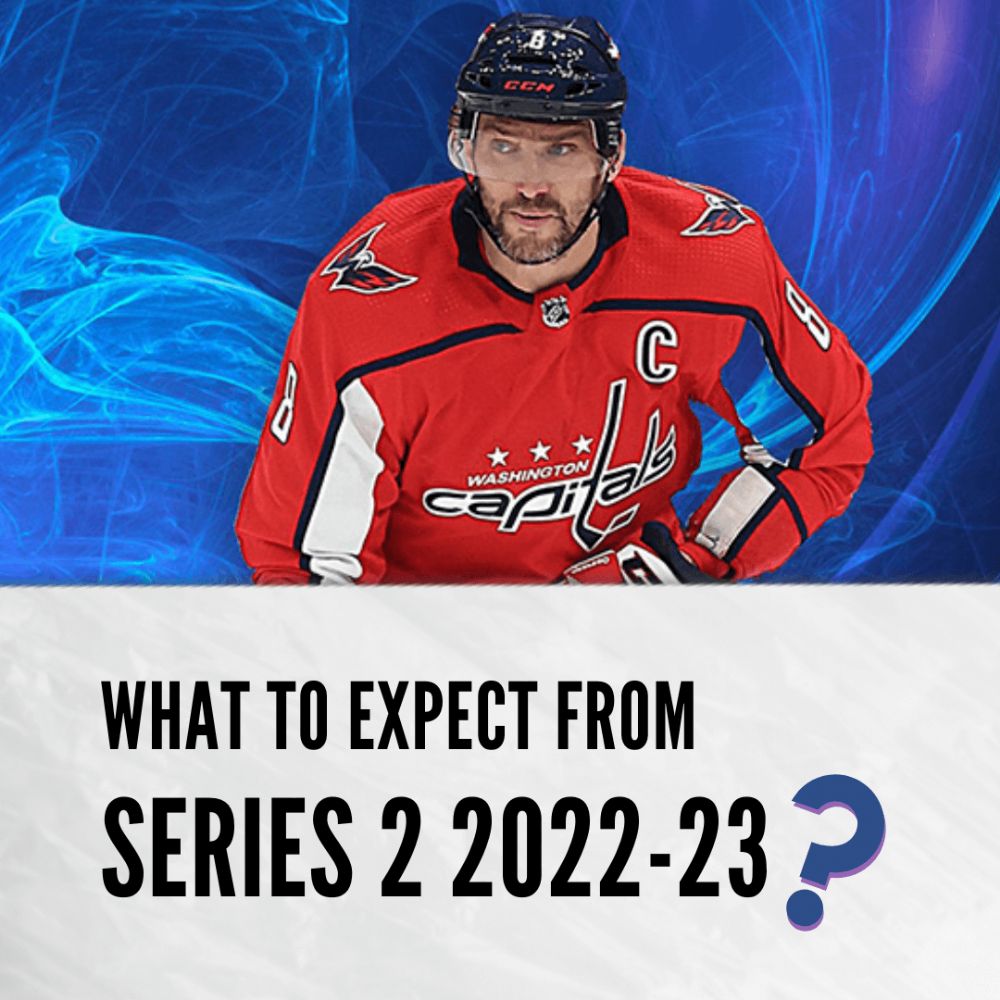 Pour la version française, cliquez ici.
Preorders for the upcoming Series 2 2022-23 are now available! And even though Upper Deck will let us wait a little longer before revealing its official checklist, here is what you can expect from this new series that will be available on February 15th.
Which popular inserts will be back in this series?
Loyal to its tradition, the series will include 50 new Young Guns. Even though those cards are produced in limited quantities, a hobby box will still contain an average of 6 Young Guns.

Lots of parallel cards are also back, such as French variants (1:30 for veterans and 1:120 for rookies), Clear Cuts (1:96 for veterans and 1:288 for rookies, still hobby exclusive) and numbered Exclusives (/100) and High Gloss (/10).

Many inserts are also coming back, notably UD Potraits, various colored Dazzlers and UD Canvas. Series 2 will be adding 150 new UD Canvas to the 120 included in Series 1, bringing the total to an impressive 270. Along with the 90 veteran (1:8) and 30 rookie (1:48) cards, 30 new UD Canvas are added to the set and include 15 High Series Retired as well as 15 High Series Program of Excellence cards (1:192).

Series 2 will also be pursuing Honor Roll (1:12), Population Count and Fluorescence (1:5 to 1:150 depending on the color) sets.

It will still include many cards containing game-worn memorabilia, notably Rookie Materials (1:144) and Patch parallels (numbered to just 25).

Day With the Cup remain very rare inserts with chances to get hold of one estimated to 1:1000 in hobby packs.
Which Young Guns will be included in this series?
Unlike Series 1, Series 2 will include rookies that debut at the start of the 2022-23 season. Although a lot of players have stood out this season, it is likely that young Guns such as Juraj Slafkovsky, Jake Sanderson and Dylan Guenther will be among the most sought-after cards by collectors. Montreal Canadiens fans will also be happy to find the names of Kaiden Guhle and Arber Xhekaj in this series Young Guns checklist.
Juraj Slafkovsky

Pavol Regenda

Samuel Poulin

Nils Aman

Brandon Biro

Jayden Halbgewachs

Michael Eyssimont

Cole Reinhardt

Wyatt Johnston

Brandon Baddock

Dylan Holloway

Mitchell Chaffee

Bokondji Imama

Nikita Okhotiuk

Andrei Kuzmenko

Jake Sanderson

Ben Jones

Jakub Lauko

Filip Roos

Brandt Clarke

Viktor Lodin

David Jiricek

Corey Schueneman

Olle Lycksell

Shane Wright

Hunter Drew

Filip Hallander

Nick Perbix

Linus Hogberg

Kaiden Guhle

Kevin Mandolese

Lucas Johansen

Reilly Walsh

Cole Koepke

Grant Hutton

Declan Chisholm

Dmitri Samorukov

Jon Lizotte

Elmer Soderblom

Arber Xhekaj

Michael Carcone

Adam Huska

Filip Kral

Ethan Prow

Ronnie Attard

Jesper Froden

Dylan Guenther

Casey Fitzgerald

Buoy the Mascot

Juraj Slafkovsky / Shane Wright
Which new inserts will be introduced in this series?
Highlighters : this new colorful acetate set highlights 25 2021-22 season memorable moments and come in four different color variants : yellow (1:192), orange (1:576), pink (1:1536) and green (1:4608).

Lunch Box Legends : this new insert is inspired by 70s popular lunch boxes (1:16) and included Gold (1:320) and Printing Plate variants.

Instant Impressions : this new set is entirely based on images (1:24).

Greetings From : as its name suggests it, this new set will focus on cities or states where NHL teams play (1:15) as well as World Junior Grads (1:20 in hobby packs) that highlights some of the best from the tournament. Both also have Gold and Printing Plate parallels.

Calder Candidates : while this insert isn't technically new, its last appearance goes back to 1992-93 season and included Eric Lindros, Teemu Selanne and Felix Potvin rookie cards. It comes back this year with potential Calder Trophy candidates and contenders for Rookie of the Year honors in standard versions (1:37) as well as Gold (1:739) and Printing Plate parallels.
What can we expect to find in an average hobby box?
6 Young Guns

1 premium card among these options : 1 Clear Cut OR 1 memorabilia card OR 1 Highlighter OR another premium card (only 1 card among these options)

5 inserts among the following options : Calder Candidates, Greetings From, Lunch Box Legends and/or World Juniors Grads

4 UD Canvas

2 UD Portrait Rookies

2 Honor Roll

1 French variant, that can be a parallel from either the base or the Young Gun sets

1 blue Dazzlers
1 Instant Impression
1 additional insert
Emilie