The receipt contest is back for 2023!
1/30/2023 12:27:48 PM
Pour la version française, cliquez ici.
Here are April winning numbers. Winners have until May 31th 2023 to claim their prize.
[9649] [3877] [8330] [7463] [2521] [1218] [5157] [8785] [4996] [6024]
Thank you for your participation. The contest will be back next year.
The receipt contest is back for February, March and April!
It is now time to keep all your receipts, because, for the next three months, you could win one of our ten 100 $ gift certificates* drawn monthly to spend in any of our stores or on our website.
Winning numbers will be drawn and announced of the first day of the following month. For example, winning numbers for February purchases will be announced on March 1st. Customers must contact us to redeem their prize. We will not contact you in any way, so remember to be careful with fraudulent accounts on Facebook and Instagram. We will never ask for confidential informations, such as your credit card or social numbers.
Contest details
On every receipt, you will find a receipt number. Be careful, your receipt number IS NOT your order number.
Here's where you can find your receipt number (refer to the picture below if necessary :
For an in-store purchase : your receipt number is on the top of your receipt, beside the "Receipt # : XXXXXXXXX", and at the bottom, under the barcode.

For an online order picked up in-store : your receipt number is located on the top right corner of your receipt.

For an online order shipped by mail : your receipt number can be found in your shipping confirmation email.
If the last four numbers of your receipt number match the ones indicated on this page, you won ! You have until the end of the month to verify and collect your prize. For example, for February, you have until March 31st to claim your prize.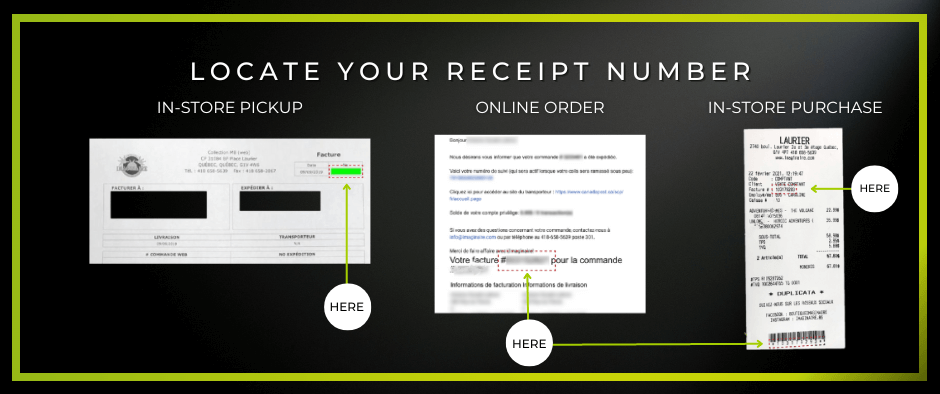 Emilie