Concours de la carte Lafrenière High Gloss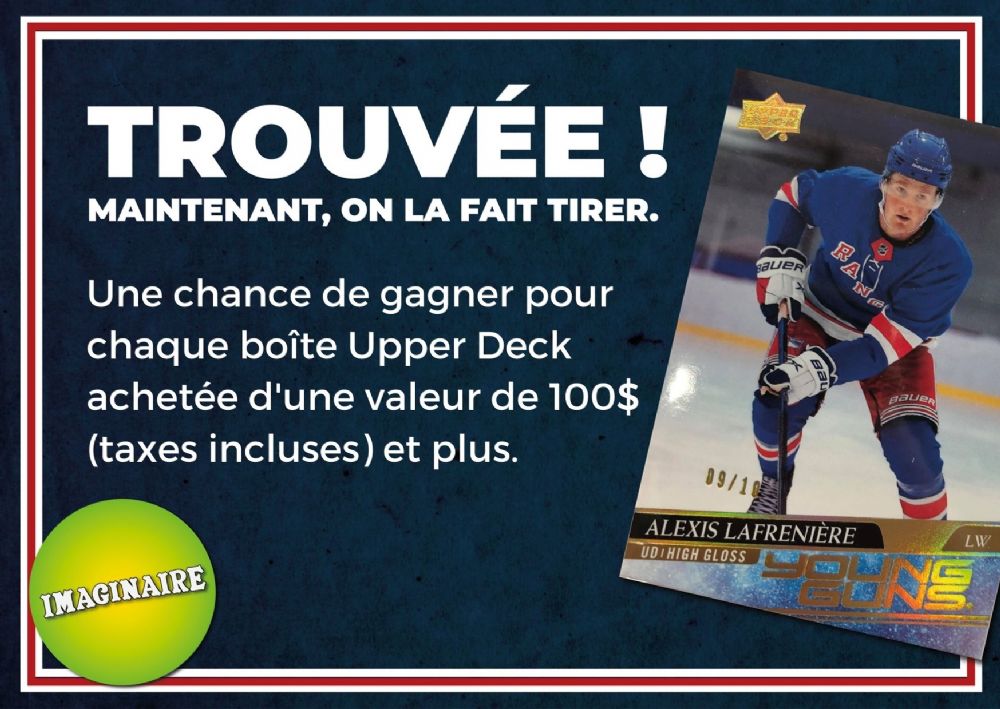 The English version can be found at the end of the French version.

Les résultats et les récompenses de chaque mois se trouvent en bas de page.
The results and rewards for each month can be found at the bottom of the page.
C'est ici pour tous les détails concernant le plus grand concours de l'histoire de l'Imaginaire !
Pourquoi tout le monde parle de cette carte ?
Tout a commencé le 16 novembre dernier, lorsque nous avons annoncé que nous serions prêts à débourser 10 000$ pour nous procurer la carte recrue numérotée sur 10 d'Alexis Lafrenière. Aussitôt, la nouvelle s'est répandue comme une trainée de poudre dans les médias et sur les réseaux sociaux. Un chanceux ayant réussi à mettre la main sur l'une de ces précieuses cartes est même parvenu à la vendre pour l'impressionnante somme de 13 000$ à la boutique qui lui avait vendu sa boîte.
L'idée derrière ce concours
Comme vous l'avez déjà sans doute constaté, l'Imaginaire a également réussi à se procurer l'une de ces dix cartes. Bien que ce ne soit pas la première carte de sport de grande valeur que nous acquérons, notre sentiment de satisfaction demeure le même et nous sommes parfaitement conscients que peu de gens peuvent s'offrir pareille carte. Pour cette raison, nous avons choisi de l'offrir à l'un de nos clients par l'entremise d'un concours. Ainsi, tous nos clients auront la chance de gagner ce petit bijou de celui qui pourrait devenir une future vedette québécoise au sein de la Ligue nationale de hockey.
Un concours qui se déroulera en deux phases.
Tout d'abord, un finaliste sera sélectionné chaque mois au cours des 11 prochains mois (du 11 décembre 2020 aux 31 octobre 2021) parmi tous les clients qui auront acheté des boîtes Upper Deck (UD). Chacun de ces finalistes gagnera également un prix en plus de sa participation au grand tirage.
Par la suite, un grand tirage sera organisé parmi les 11 finalistes retenus pour déterminer qui sera l'heureux récipiendaire de la carte.
Voici comment participer aux 11 mini tirages
C'est simple : chaque fois que vous achèterez une boîte UD d'une valeur minimale de 100$ (taxes incluses), vous obtiendrez une participation pour le mini tirage du mois en cours. Il n'y aura aucune limite de participation par facture ou par mois. À titre d'exemple, vous pourrez obtenir 4 participations au cours d'un même mois à l'achat de 4 produits UD éligibles, et ce, même si elles sont achetées lors d'une même transaction, et ce, peu importe l'année, peu importe la série produite par UD (Series 1, Chronology, SP Authentic ...) !
Tous les détails concernant le prix qui sera remis au finaliste du mois seront divulgués au début de ce même mois.
Enfin, vous devrez posséder un compte privilège pour participer, sans quoi nous ne pourrons valider votre nombre de participations. Pour les achats en ligne, les informations remises lors de la commande seront suffisantes.
*Période de participation pour le grand tirage : du 11 décembre au 31 octobre 2021. Concours ouvert aux résidents du Canada âgés de 13 ans et plus. Aucun achat requis pour participer. Une personne participante dispose d'un autre moyen de participer au concours. Cette personne participante peut envoyer sa demande de participation par la poste sans acheter une boîte UD comme suit : i) la demande de participation doit être postée dans une enveloppe externe affranchie, ii) l'enveloppe externe doit être postée à l'adresse suivante : 2740 boulevard Laurier, 2e et 3e étage, Québec, QC, G1V 4P7, Canada, iii) l'enveloppe doit être reçu une semaine avant la fin du mois, iiii) une seule demande par mois est autorisée.
Here is for all the details on the biggest contest in the history of the Imaginaire!
Why is everyone talking about this card?
It all started on November 16, when we announced that we would be willing to pay $ 10,000 to purchase Alexis Lafrenière's number 10 rookie card. Immediately, the news spread like wildfire in the media and on social media. One lucky guy who managed to get his hands on one of these precious cards even managed to sell it for a whopping $ 13,000 at the store that sold him his box.
The idea behind this contest
As you may have already noticed, Imaginaire also managed to get hold of one of these ten cards. While this is not the first high value sports card we acquire, our sense of satisfaction remains the same and we are fully aware that few people can afford such a card. For this reason, we have chosen to offer it to one of our clients through a contest. Thus, all our customers will have the chance to win this little gem from the one who could become a future star in the National Hockey League.
Contest details
This contest will take place in two phases.
First, a finalist will be selected each month for the next 11 months (December 2020 to October 2021) from all customers who have purchased Upper Deck (UD) boxes. Each of these finalists will also win a prize in addition to their participation in the grand draw.
Afterwards, a big draw will be organized among the 11 finalists selected to determine who will be the lucky recipient of the card.
Here's how to participate in the 11 mini raffles
It's simple: every time you buy a UD box with a minimum value of $ 100 (taxes included), you will get one entry for the current month's mini draw. There will be no limit to participation per invoice or per month. For example, you can get 4 participations in the same month for the purchase of 4 eligible UD products, even if they are purchased in the same transaction.
Full details of the prize to be awarded to the finalist of the month will be disclosed at the beginning of that month.
Finally, you must have a privilege account to participate, otherwise we will not be able to validate your number of participations. For online purchases, the information provided during the order will be sufficient.
* Entry period for the big draw: December 10 to October 31, 2021. Contest open to residents of Canada aged 13 and over. No purchase necessary to participate. Another way for a participant to enter the contest is. This participant can send their request to participate by post without purchasing a UD box as follows: i) the request to participate must be mailed in a stamped outer envelope, ii) the outer envelope must be mailed to the following address: 2740 boulevard Laurier, 2nd and 3rd floors, Quebec, QC, G1V 4P7, Canada, iii) the envelope must be received one week before the end of the month, iiii) only one request per month is authorized.
Finalistes et prix / Finalists and prizes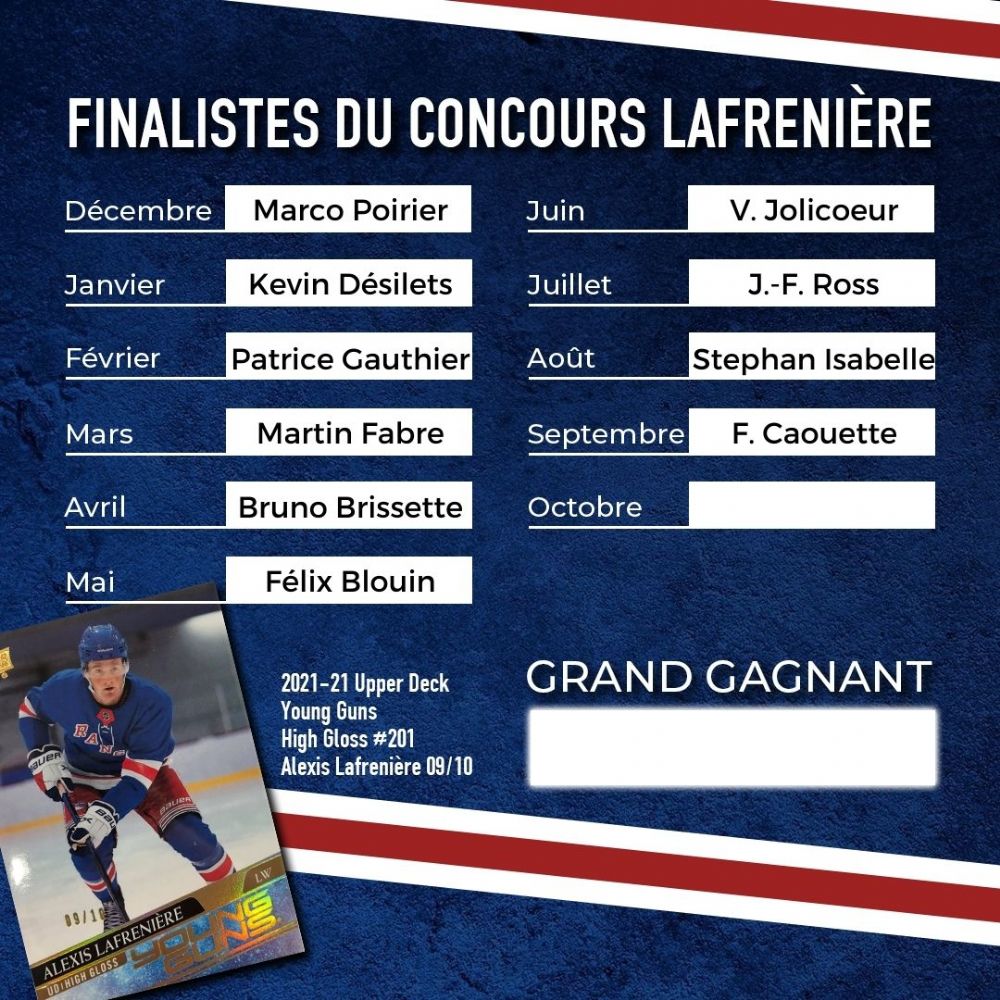 Mathieu
12/8/2020 2:29:15 PM