Deuxième confinement - Second confinement (2021-01-07)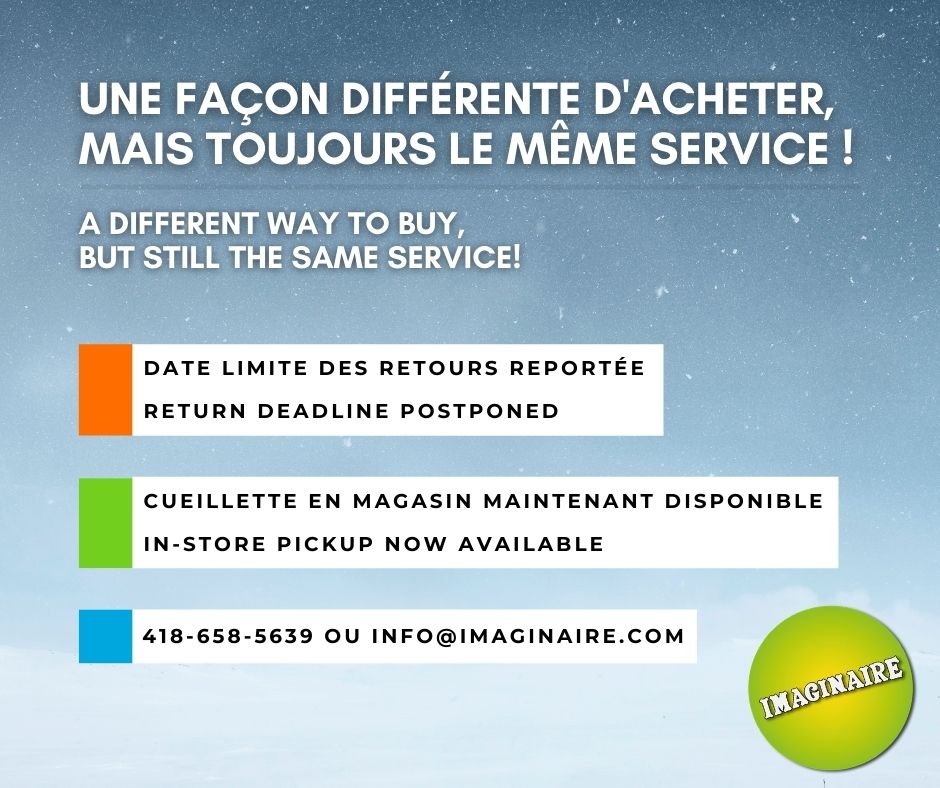 Mise à jour le 7 janvier 12:00 PM. Updated January 7, 12:00 PM.
The english version will follow.
Est-ce que la cueillette en magasin est de retour ?

Oui elle sera de retour officiellement le 9 janvier. Nous offrirons ce service tous les jours entre 10h et 17h. Veuillez noter que la boutique de Lévis sera ouvert seulement entre 12:00 et 17:00 le samedi et dimanche.
Voici notre manière de procéder pour les cueillettes en magasin lors du COVID-19.
Lorsque vous allez sélectionner votre méthode de livraison, vous allez pouvoir sélectionner l'une de nos 5 boutiques.
Une fois que vous aurez cliqué sur passer votre commande, vous allez recevoir un premier message de confirmation. Ce n'est qu'une fois que nous aurons traité votre commande et qu'elle sera prête que nous allons vous envoyer un second courriel avec tous les détails concernant la cueillette. Veuillez noter que les cueillettes se feront à l'extérieur de nos boutiques.
Ce message vous indiquera nos disponibilités et l'emplacement détaillé de notre point de cueillette.
Enfin, une fois que vous serez disponible pour venir ramasser votre commande, vous n'aurez qu'à nous téléphoner 10 minutes à l'avance.
Pouvons-nous encore passer une commande en ligne ?
Notre site reste opérationnel durant toute la durée du confinement. Vous pouvez donc, en tout temps, commander sur notre site internet. Nos délais de traitement et d'expédition resteront les mêmes qu'à l'habitude, soit de 24 à 48 heures ouvrables.
J'ai fait un achat pour un cadeau de Noël et je dois le retourner. J'ai jusqu'à quand pour retourner mon achat?
Ne vous inquiétez pas, nous allons mettre à jour la date limite pour retourner vos achats fait avant le 24 décembre 2020 une fois que nos boutiques physiques seront réouvertes.
J'ai fait une cueillette en magasin et je n'ai pas pu venir la chercher avant le confinement. J'ai jusqu'à quand pour venir la chercher?
Lorsque le confinement sera terminé, vous avez 3 semaines pour venir chercher votre cueillette en magasin.
Pouvons-nous faire une réservation ?
Aucune réservation non-payée ne sera possible lors du confinement. Cela dit, vous pouvez toujours acheter et payer un produit via notre site internet et choisir l'option de cueillette en magasin.
Votre réouverture est prévue pour quand ?
Nous devrions ouvrir le 9 février 2021. Veuillez noter que cela peut changer en fonction des recommandations du gouvernement et de la santé publique.
Comment peut-on vous joindre ?
Vous pouvez nous contacter par téléphone au 418 658-5639 ou par courriel à info@imaginaire.com.
À quel moment pouvons-nous vous joindre ?
Nous sommes disponibles entre 10h AM et 5h PM.
Est-ce qu'on peut utiliser une carte-cadeau sur le site web ?
Oui, mais seulement les cartes de notre boutique. Au moment du paiement, vous pourrez sélectionner l'option carte-cadeau. Vous avez simplement à entrer le numéro de votre carte cadeau ainsi que le code à gratter.
English Version
Can we still place an order?
You can still order on our website. Our shipping times, in 48 working hours, will remain the same.
I made a purchase for a Christmas present and I need to return it. How long do I have to return my purchase?
Don't worry, we will be updating the deadline for returning purchases made before December 24, 2020 once our physical stores reopen.
Is in-store pickup back?
Yes, it will be back officially on January 9. We will offer this service every day between 10 a.m. and 5 p.m. Please note that the Lévis boutique will be open only between 12:00 and 17:00 on Saturday and Sunday.
Here is our procedure for in-store pickups during COVID-19.
When you select your delivery method, you will be able to select one of our 5 stores.
Once you have clicked on place your order, you will receive a first confirmation message. It is only after we have processed your order and it is ready that we will send you a second email with all the details regarding the pickup.
This message will tell you our availability and the detailed location of our pickup point. Please note that pick-ups will be outside of our stores.
Finally, once you are available to pick up your order, all you have to do is call us 10 minutes in advance.
Can we make a reservation?
No reservations are allowed during containment. That said, you can still buy a product and opt to pick it up in store.
When is your reopening scheduled?
We should open on February 9. Please note that this may change based on government and public health recommendations.
How can we reach you?
You can contact us by phone at 418 658-5639 or by email at info@maginaire.com.
When can we reach you?
We are available between 10 a.m. and 5 p.m.
Can I use a gift card on the website?
Yes, but only the cards from our shop. At the payment method, you will be able to select the option gift card. Then you will only have to enter the codes on the back of your card.
Voici les différents points de cueillettes.
*** SVP, veuillez nous téléphoner 10 minutes avant de vous déplacer. ***
Here are the different pick-up points.
*** Please, call us 10 minutes before you travel. ***
Laurier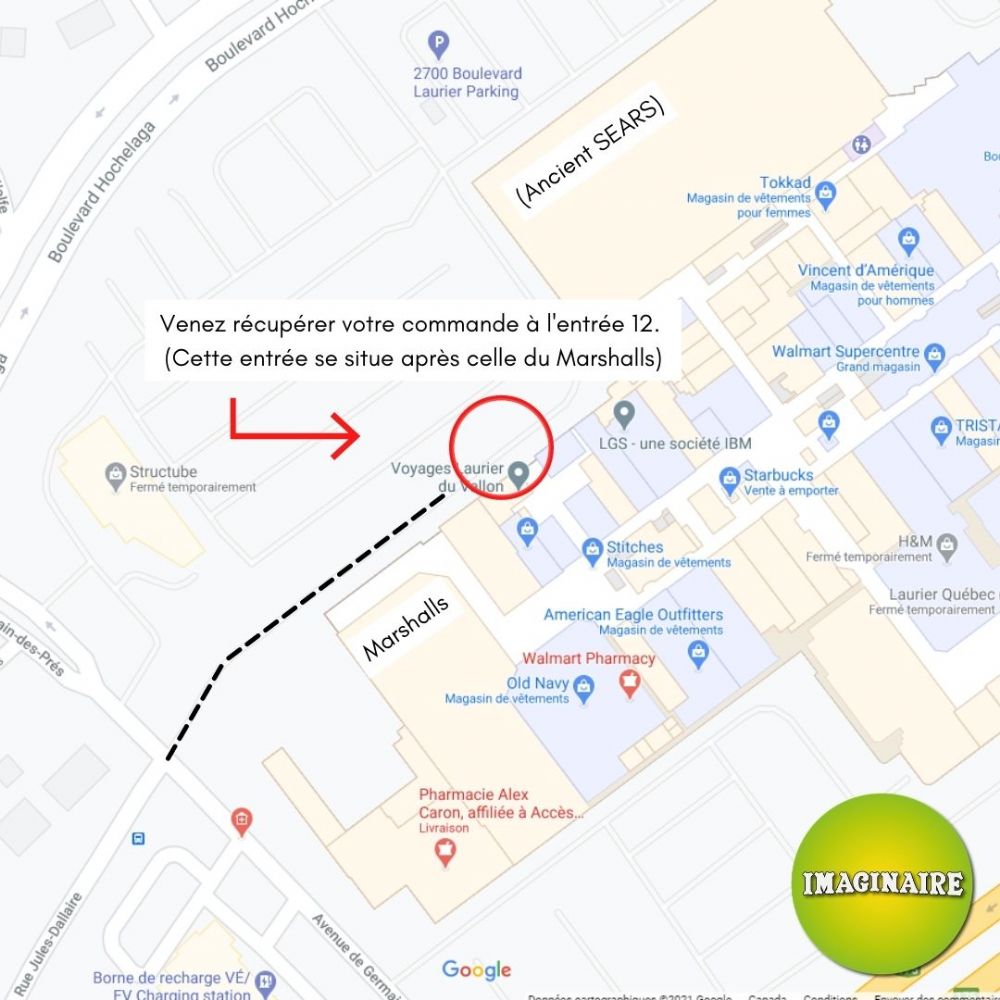 Sherbrooke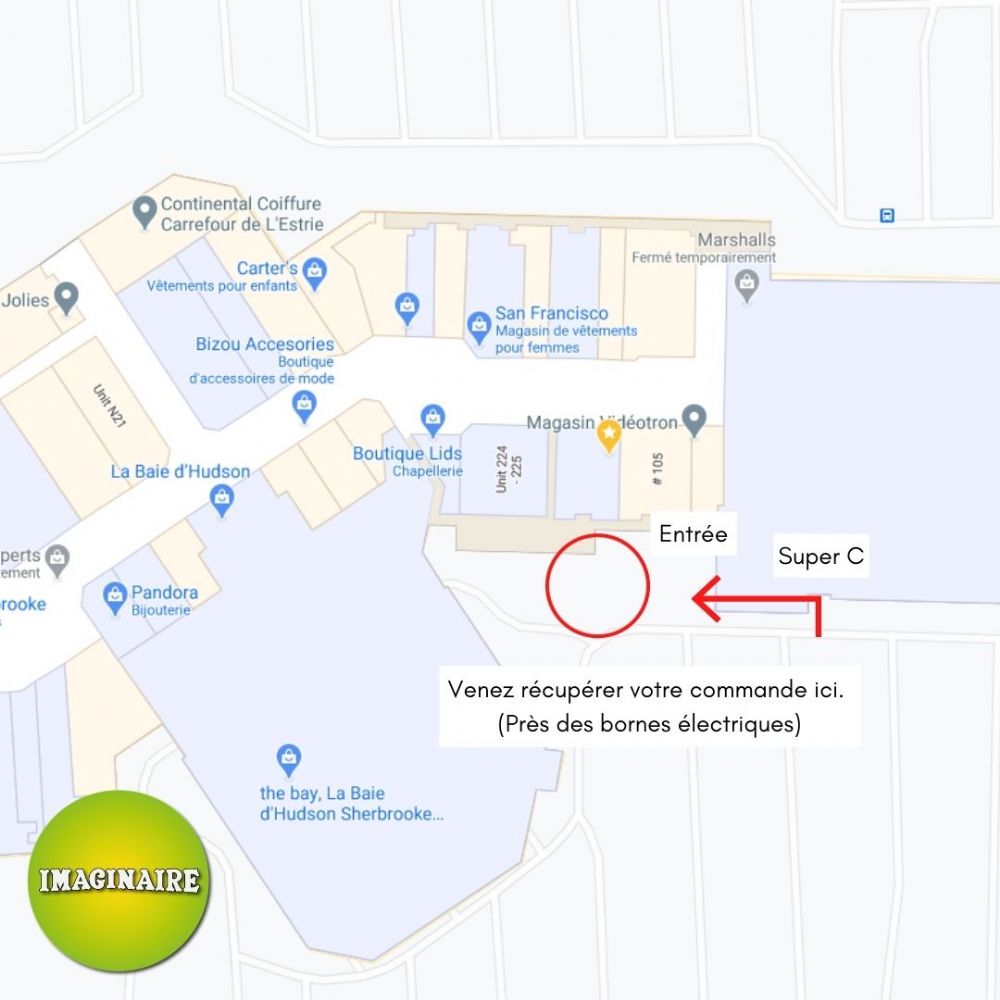 Saint-Bruno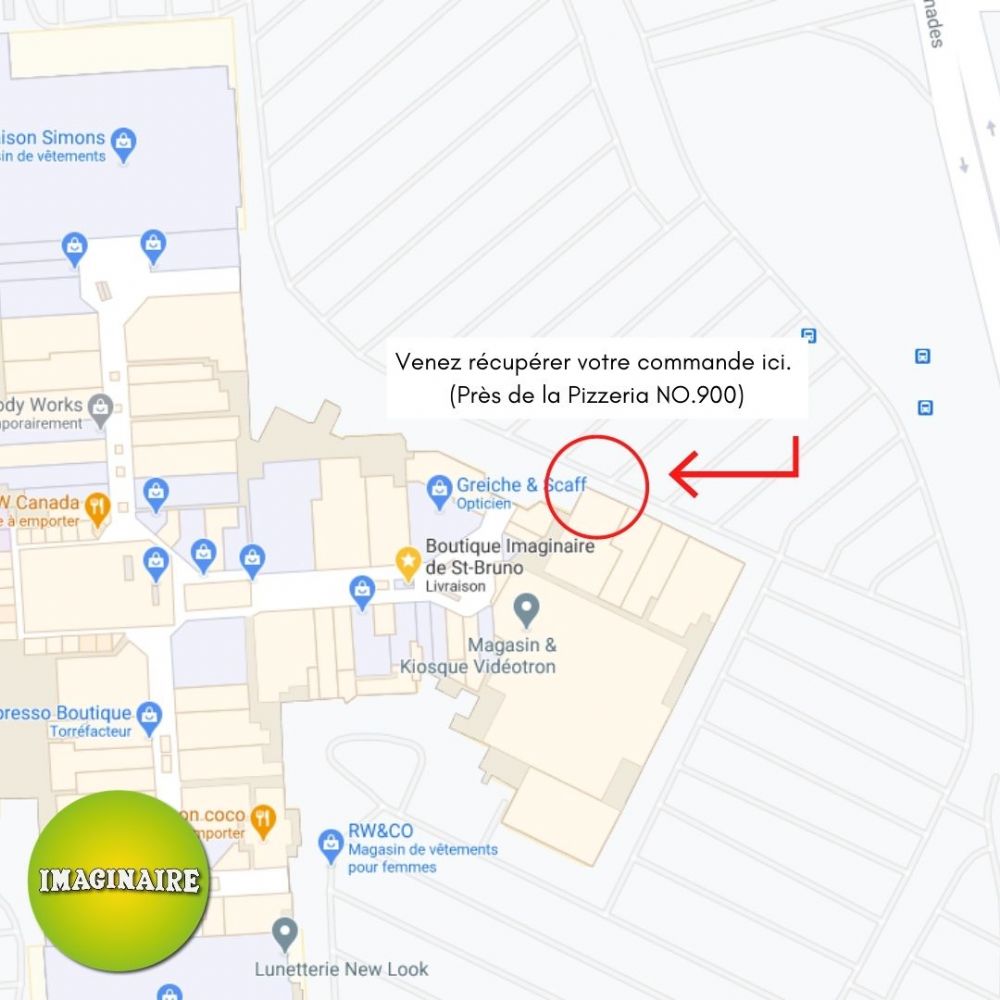 Trois-Rivières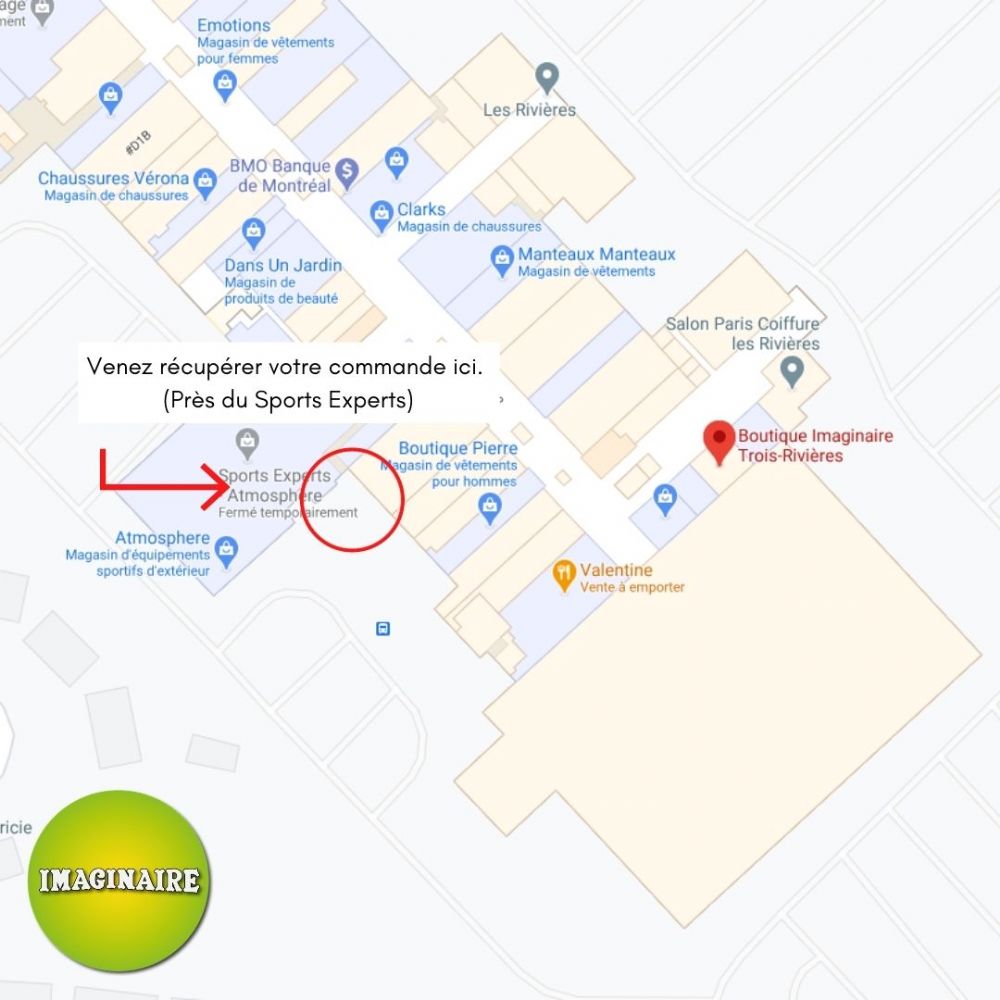 Lévis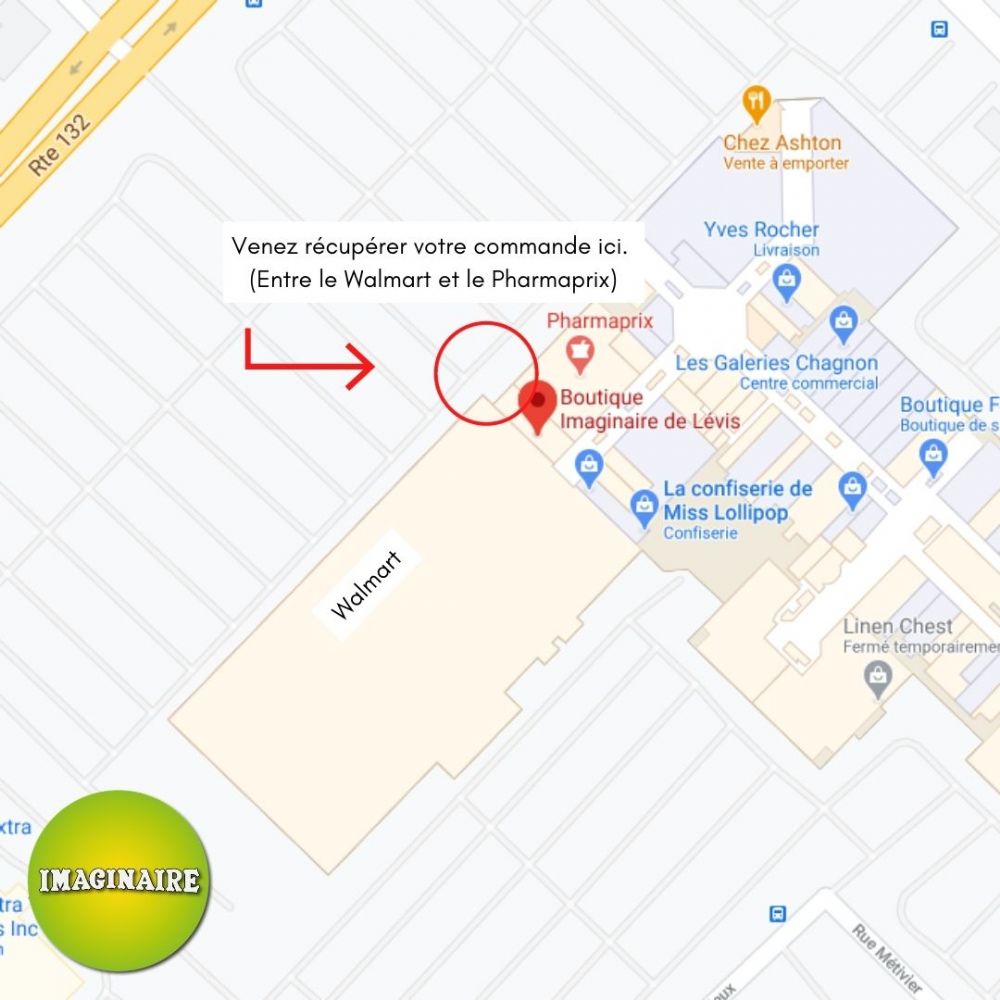 Mathieu
12/21/2020 1:40:25 PM