Concours de la facture - Receipt contest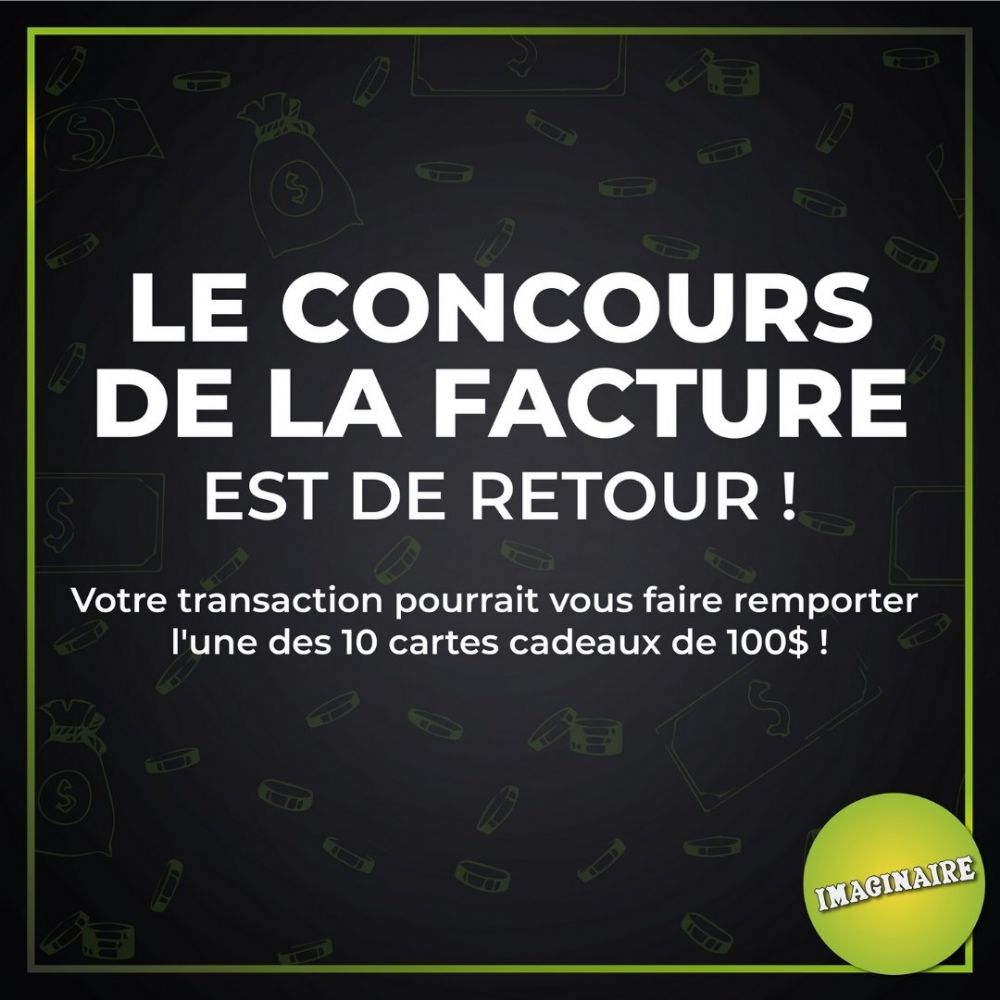 *The English version will follow.
LE CONCOURS DE LA FACTURE EST TERMINÉ ET SERA DE RETOUR L'AN PROCHAIN!
THE RECEIPT CONTEST HAS ENDED AND WILL BE BACK NEXT YEAR!
Numéros gagnants mai / Winning numbers May
[3112] [7028] [2303] [5487] [1566]
[4694] [6771] [9839] [8955] [5007]
Numéros gagnants avril / Winning numbers April
[5100] [9321] [3462] [0133] [6234]
[8955] [7867] [1776] [2388] [4699]


Numéros gagnants mars / Winning numbers March
[3940] [4293] [4807] [5318] [6032]
[6459] [7128] [7281] [8169] [9641]

Le concours de la facture revient en force pour le mois de mai!
Il est temps de recommencer à garder précieusement vos factures, car vous pourriez avoir la chance de gagner l'un des dix certificats-cadeaux de 100 $ à dépenser dans l'une de nos cinq boutiques ou sur notre site internet !
Fonctionnement du concours
Sur chacune de vos factures, vous trouverez un numéro de facture. Attention, IL NE S'AGIT PAS de votre numéro de commande.
Si vous avez fait votre achat en magasin, ce dernier se trouve dans le haut de votre facture, à côté de « Facture #: XXXXXXXXX », et dans le bas, sous le code-barres.
Pour les commandes faites en ligne, ce dernier se trouve dans votre courriel de confirmation d'envoi si vous avez choisi un envoi postal ou, si vous avez choisi la cueillette en magasin, il se trouve dans l'encadré, en haut, à droite de votre facture. (Référez-vous au visuel ci-dessous au besoin.)
Vous devez vérifier si les quatre derniers numéros de votre facture correspondent à ceux indiqués plus haut. Si oui, vous avez gagné ! Vous avez jusqu'à la fin du prochain mois pour vérifier et réclamer votre prix. Par exemple, pour le mois de mars, vous avez jusqu'au 30 avril pour réclamer votre prix.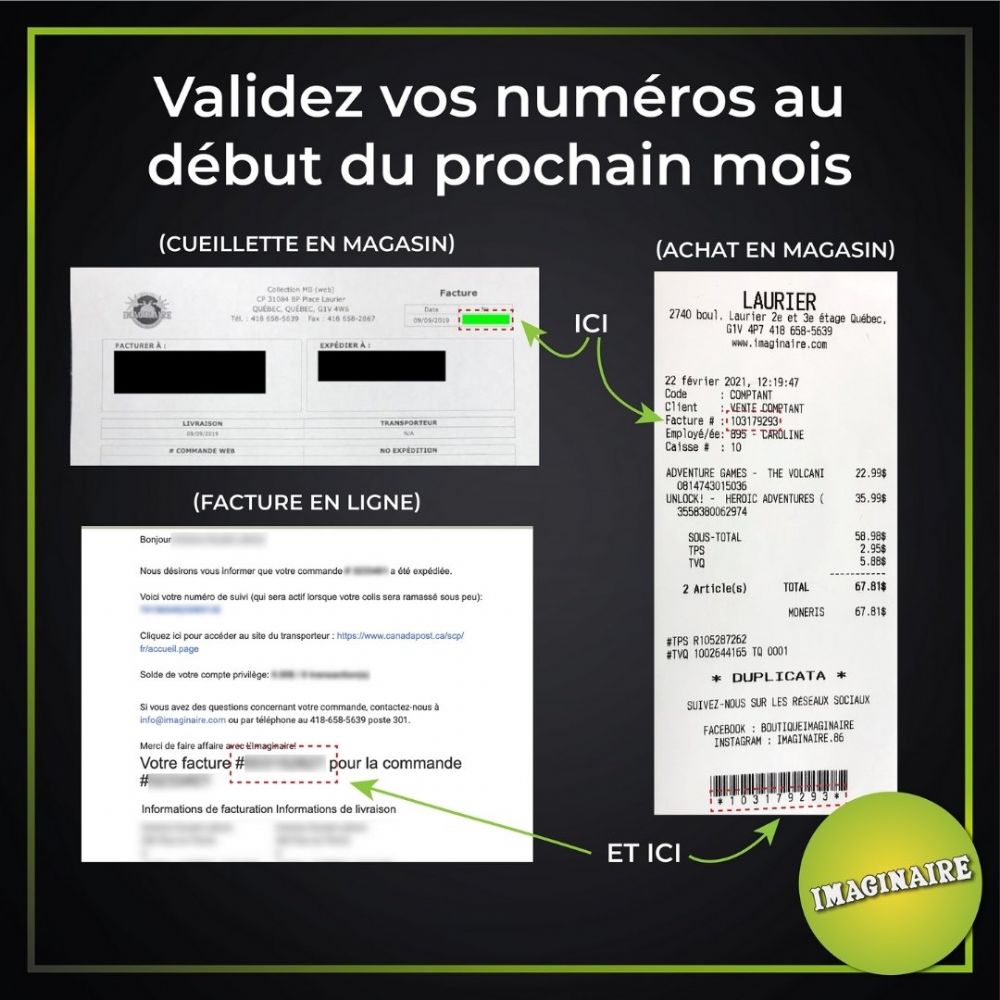 The receipt contest is back for May!
It is now time to keep all your receipts, because you could win one of our ten 100 $ gift certificates to spend in any of our five stores or on our website.
Contest details
On every receipt, you will find a receipt number. Be careful, your receipt number IS NOT your order number.
If you made your purchase in-store, your receipt number is on the top of your receipt, beside the « Receipt # : XXXXXXXXX », and at the bottom, under the barcode.
If you made your order online, you can find your receipt number in your shipping confirmation email or, if you choose to pick-up your order in-store, your can find your receipt number on the top right corner.
If the last four number of your receipt number match the ones indicated on this page, you won ! You have until the end of the month to verify and collect your prize. For example, for March, you have until April 30th to claim your prize.
Mathieu
2/23/2021 5:25:24 PM